To honor Earth Day, Footprint is revisiting our most successful blog post ever: The History of Straws: From Invention to Regulation.
Single-use plastics have been controversial for decades—more and more we're seeing National Geographic-style images of bogs of plastic washing up onshore of beautiful tropical islands, and seeing alarming studies about the impact of plastic pollution on our health. But really, when it comes to straws, the debate can be divided into two eras: Before the Turtle Video (BTTV) and After the Turtle Video (ATTV).
One expert close to our hearts knows a thing or two about what a difference one moment can make to spark a movement. When marine biologist Dr. Christine Figgener uploaded a heartbreaking video of her research team removing a plastic straw from a sea turtle's nose, it became a tipping point in the fight against single-use plastic. Now with more than 100 million views, ABC7 News dubbed Figgener's video "a game changer in the fight against plastic pollution," and Time credited Figgener for sparking a global movement to eliminate the use of plastic straws. (​​In 2020, Dr. Figgener became Director of Science & Education for the Footprint Foundation, which educates the public about the detrimental effects of plastic pollution and aspires to eliminate plastic from our environment.)
Long before the turtle video (BTTV) activists had been sounding the alarm about the minimum 100 million straws that are used and thrown away in the United States every day, and about the hundreds of thousands of fish, seabirds and marine mammals that die every year as a result of ingesting plastic—but none of these distressing statistics broke through to the public consciousness the way the sight of one suffering turtle did. "Seeing that video, as horrible as it was, is what we needed to wake people up," Figgener said in an interview after the video went viral. "People saw firsthand the pain and suffering that even a small plastic item such as a plastic straw can cause," she told Footprint.
The turtle video personalized the plastic crisis in a way that galvanized action. Seemingly overnight, millions of people suddenly saw every single plastic straw as the potential murder weapon of an endangered sea creature. Consumers started questioning why plastic straws were an assumed part of every single food purchase and demanding sustainable options.
Since then, hotel chains, airlines, cruise lines, supermarkets and amusement parks have gone plastic-straw-free. Cities, states and businesses began enacting plastic straw bans. Teen activists created National Skip the Straw Day, which is every fourth Friday in February. The European Union banned ten different throwaway plastics, including single-use straws. France banned single-use plastic packaging for most fruits and vegetables, eliminating 1 billion pieces of plastic.
Perhaps the most important and encouraging statistic of all? Worldwide, three out of four people want single-use plastics banned.
What plastics has your state banned?
Go to the Footprint Foundation's plastic ban tracker to find out.
Why all the focus on straws? There has been some pushback against demonizing plastic straws as public enemy #1: disabled people rightly pointed out that for some, straws are a necessity. Activists pointed out that the majority of plastic pollution is generated by wealthy industrialized nations—shouldn't those governments be leading and funding the cleanup? Others asked: Why not target plastic bags, fishing equipment, bottles or disposable food packaging, all of which make up a far greater proportion of plastic waste?
There are several reasons why the anti-straw campaign caught fire. Forty years after the first universal recycling symbol was launched, only 14 percent of plastic packaging is recycled—but because plastic straws are too small and lightweight to be captured in modern recycling equipment, virtually every single one ends up in a landfill. As Dr. Figgener pointed out, "The straw is emblematic of unnecessary plastic items and how human activity harms oceans." And unlike commercial fishing gear, the straw is something everyone has used before: "So this straw in the nose of the sea turtle could have been my straw or your straw."
Some activists argued the anti-straw outrage was just a starting point that could fuel additional campaigns against other forms of plastic. The founder of Strawfree.org agreed, telling E & E News "I think a lot of people feel overwhelmed by the magnitude of the plastic problem … Giving up plastic straws is a small step, and an easy thing for people to get started on. From there, we can move on to larger projects." Stanford Earth Blog agreed that getting rid of plastic straws is a great entry point, not an end goal: "The crucial challenge is to ensure that these bans are just a first step."
And Dr. Figgener points out that she has witnessed a paradigm shift in the conversation around ocean conservation. "I have seen a steep increase in awareness of plastic pollution in our environment and the detrimental effects it has on wildlife. No matter where I travel in the world, I usually find businesses that have phased out parts of their single-used plastics and are often referencing sea turtles as a reason. Also, there has been a major increase in plastic-free products over the past years. So now people have the choice when they go out shopping."
Many anti-straw campaigns, like the #StopSucking initiative, want consumers to just say no to straws, period. But since fast food restaurants and to-go coffee remain part of millions of people's daily routines, adopting sustainable straw alternatives will be more effective than simply telling people to stop using the plastic ones.
Footprint decided to develop a straw alternative of our own. We invested in new engineering resources to accomplish this, which took more than a year to achieve. Consumer tests commissioned by McDonalds put our straws up against four top industry competitors' designs and found our straws were strongest. Our paper straws are engineered to be strong over the course of days of use, while still breaking down completely in 90 days or less. Our secret is in the type of paper we use, the way the straw is wound, and using the right ingredients to hold it together. Today, our straws are already in use at select McDonalds,, Chick-Fil-A, Panera Bread and Tim Horton's chains in Canada and the U.S., as well as Wegman's stores, with more than 202 million sold in 2022 alone.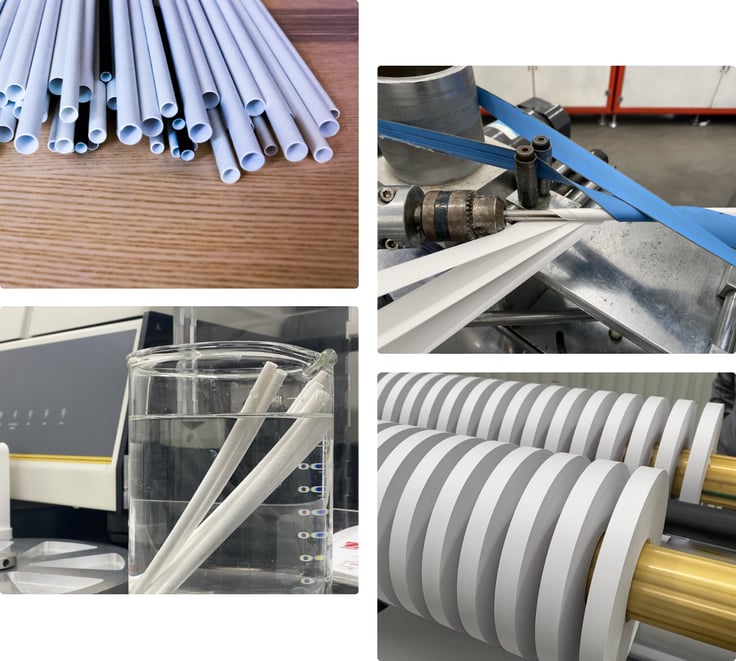 Creating viable alternatives to single-use plastics requires science, innovation, patience and perseverance—and that is the hard work Footprint is here to do. We see the anti-straw movement as a tipping point in the battle against plastic pollution—our movement has momentum, and we're ready to take the fight global. Will you join us?
Love turtles? Hate plastic? Share this post and help spread the word about viable alternatives to plastic straws and the sustainability movement! Take the Pledge!