The National Geographic article written by Stephen Leahy about microplastics raining down in a remote mountainous location followed by another one detailing a deep diver's plastic find at the bottom of the Mariana Trench made me stop and seriously consider the global health crisis we are facing.
Plastics found in our environment are an especially troubling result of the unnecessary amount of single- use items and plastic packaging. Not surprisingly, among the top 10 kinds of trash found in the ocean during the International Coastal Cleanup were beverage bottles and containers, plastic straws, take out boxes, plastic bags, and food wrappers and containers. Nearly all of it made of plastic.
Since less than nine percent of all plastic is recycled, much of it ends up degrading in our environment and getting washed into the sea becoming part of the more than nine million tons that get dumped there annually. Then, after breaking up over time, this plastic debris becomes microplastics, pieces less than five millimeters in length.
The National Geographic article and many studies over the past few years have added microplastics to the list of concerns plaguing researchers. As you've no doubt already read, they are being found everywhere—and even entering our food chain through consumption of fish and aquatic animals.
Plastic trash and microplastic particles couple to create "plastic soup" in our oceans that is becoming nearly impossible to completely clean up because of its pervasiveness.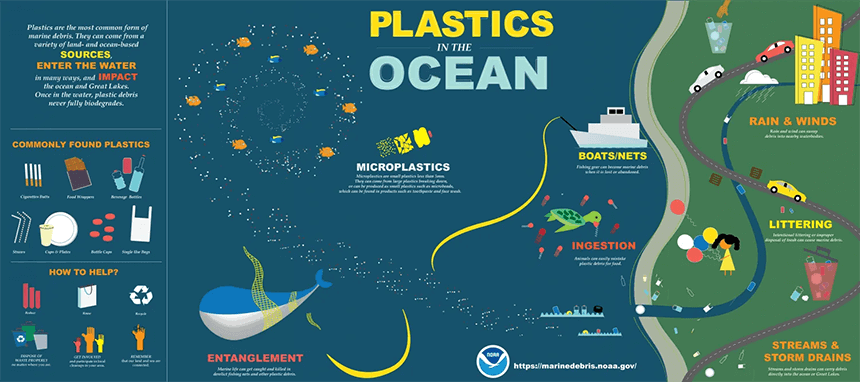 We need to act now and quickly as this problem extends beyond the trash we find in the ocean. We are exposed to many toxic chemicals and microplastics all throughout the plastic lifecycle. Humans have direct exposure to plastic and the chemicals used in creating plastic from extraction to end-use and waste. Recycling alone isn't going to solve this problem long-term.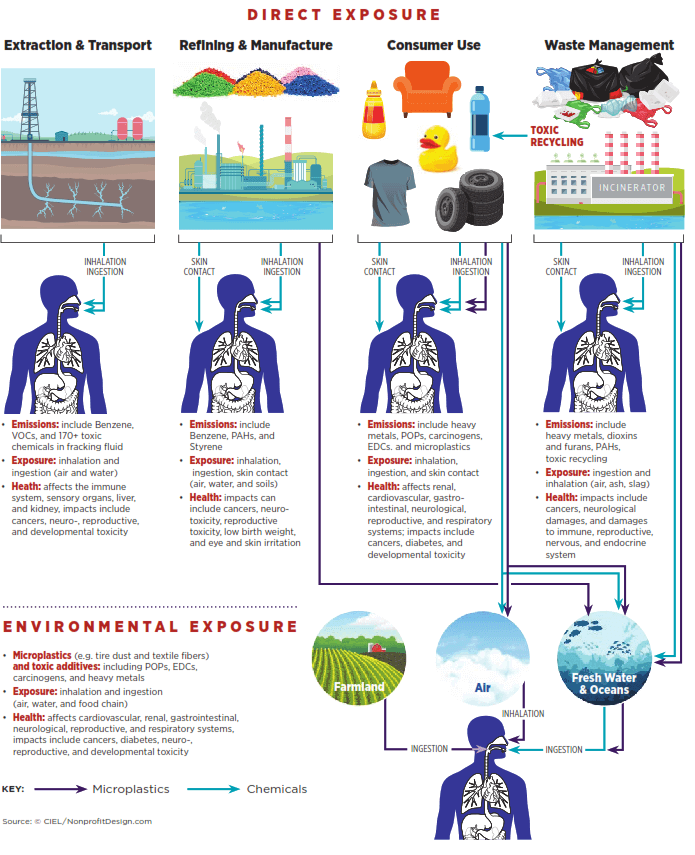 Recycling is okay, but it's not the only answer.
Plastic doesn't decompose. Sure, there is recycling and reuse – but much of the pollution that ends up in our oceans is single-use plastics like grocery bags, straws, and food packaging.
These are convenience items that I'd argue never needed to be created in the first place. They were designed to solve corporate problems and not with end-use or recycling in mind.
Misinformation about the effectiveness of recycling coupled with corporate apathy about creating these items in the first place shifts the focus (and ownership of the problem) away from the genuine threat throw-away plastics pose to our environment. The truth is, many single-use plastics can't be recycled by conventional means. And worse—many just aren't recycled at all.
The ocean is a receptacle for all of that waste, and it's not just coastal litterbugs driving this crisis. It's everyone continuing to use and throw away plastic.
We have to stop plastic at the source.
More plastic is being created than is being picked up or recycled. We have to stop the use and production of unnecessary plastics. You can do this personally by reducing the amount of plastic you use by demanding better from your local municipality and brands. Demand that your favorite brands look for plastic alternatives and request your city councils' look for alternatives as well." By taking a stand you can play your part in limiting the out of control rise of plastic pollution.
You might think the problem is insurmountable—but it's not. Consider Footprint's Ocean Ambassador Christine Figgener. In 2015, as a master's student, she posted one video on YouTube that created a heartbreaking, visual tipping point for plastic straw bans all over the world. TIME magazine then credited her with this accomplishment by naming her a Next Generation Leader.
Consumer demand for fewer plastics has also lead McDonald's and many other large corporations to pledge to switch to sustainable materials.
The demand for change from individual consumers has made an impact.
In October of last year, the Ellen MacArthur Foundation working with UN Environment rolled out the New Plastics Economy Global Commitment, with the goal that plastics never become waste. The more than 350 companies listed have committed to making changes in the design and manufacture of their products to reduce plastic.
After spending more than 18 years of my career finding ways to implement the 3 Rs (reduce, reuse, recycle) at companies I've worked for like Intel, I started Footprint to help build immediate momentum behind the concept of eliminating the excessive amounts of plastic in grocery stores.
In other words, to eliminate plastic in the design and manufacturing of single-use products and packaging.
I genuinely believe addressing the source is the quickest and most effective way to prevent plastic from entering our oceans, our food chain, and our bodies. Spend your money on products with packages that can easily be composted and recycled. Demand that the businesses you frequent do the same.